Rosettes Display Perfect For Displaying Your Rosettes 
Firstly our customers have found themselves on our page because they have Rosettes to display. Displaying Rosettes could not be simpler using our Rosettes Display.
Maybe  you have a pile of your dog show or horse show Rosettes on the side. Therefore gathering dust and getting spoiled.
Because our displays are simple to use our customers return each season to purchase more. As a result we have been able to add more disigns to our range making us the number one supplier.
Rosettes Display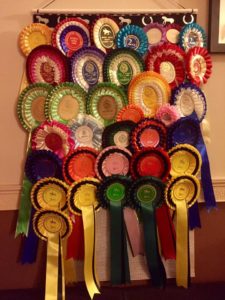 so now it's time to consider which size display . Which colour ribbon and text details for printing.
Most of all Customers like to browse our store or facebook page for new designs. Click on photo above to browse designs.
Finally happy pinning.